Smokey Pickles is lost!
Lost Date
September 26th, 11:48am
Wearing collar?
No
Last seen at
Hillside Terrace, Pasadena, CA, USA
we have been looking feverishly for our family member Smokey Pickles. Please if you have him or you have seen him please call us. He's very scared and needs his family.
Map
Smokey Pickles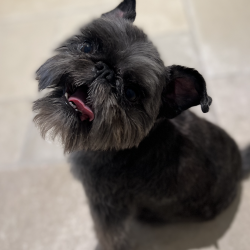 | | |
| --- | --- |
| Breed | Brussels Griffon |
| Species | Dog |
Basic Information
| | |
| --- | --- |
| Color | Black |
| Gender | Male |
| Spayed/Neutered | Yes |
| Microchip Number | 956000004850917 |
| Pet Date of Birth | 06/10/2015 |
| Identifying Markings | silver undercoat |
| Coat | rough |
| Pet Biography | Smokey is an 8 pound very small griffon. He goes by Smokey or Pickles. |
Owner Information
| | |
| --- | --- |
| Owner Name | Tiffany Morgan |
| Phone Number | (479) 200-6240 |
| Cell Phone Number | (307) 413-8839 |
| Work Phone Number | (949) 887-3084 |
| Email Address | tiffanyjademorgan@gmail.com |
Pet Care Information
| | |
| --- | --- |
| Obedience Level | trained |
| Temperaments | skiddish, |
| Friendly with People | Yes |
| Friendly with Dogs | Yes |
| Type of Food | science diet active adult |
| Exercise Requirements | he hikes |
Medical Information
| | |
| --- | --- |
| Veterinarian | Montrose Pet Hospital |