In Pasadena, pet license fees and donations are an important source for funding essential animal services. When you license your pet, know that you are doing your part to help your local shelter workers care for lost, injured and abused animals.
We are proud to call Pasadena Humane an official Safe&Happy Partner. We will always donate 20% of every designer tag sale to Pasadena Humane to provide additional funding for the community's vulnerable animals and the staff that serves them. They are doing some pretty amazing things for local animals in need; read on to learn more about this great organization!
126
Staff members
1,590
Volunteers
54,000
Volunteer hours
Talkin' Shop with
Pasadena Humane
What is something you are really proud of as an organization? Pasadena Humane is proud to be the community's resource for all things animal-related. We provide housing, shelter, and care to homeless, injured, and orphaned animals—both companion and wildlife—in our community. We support pet owners and animal lovers with resources and programs like low-cost spay/neuter, a pet food bank and humane education activities for kids.
What is something that makes your shelter unique? Pasadena Humane has been serving the pets and residents in our community for nearly 120 years.
What is a program that you run that is really important for people to know about? Helping Paws is a safety net program that helps pet owners in need. We offer a pet food bank, free or low-cost spay/neuter, vaccines, emergency pet boarding and more. During the pandemic, we shifted our food bank to a drive-through model to ensure that no pet missed a meal.
Can you share a story of a specific pet you helped recently? Solange, a three-year-old German Shepherd, came to Pasadena Humane as the victim of a hit and run. She was found injured under a freeway overpass suffering from a fractured femur and internal bleeding. Our veterinary team jumped into action to save this sweet girl's life. After a few rocky days in our Intensive Care Unit, her condition stabilized, and she underwent urgery to repair her broken leg. Solange recovered in a loving foster home and was eventually adopted by her foster dad.
Solange is now living the good life. She loves car rides and endless snuggles. We are so happy to have been part of her journey from an injured stray running the freeways to a beloved pet.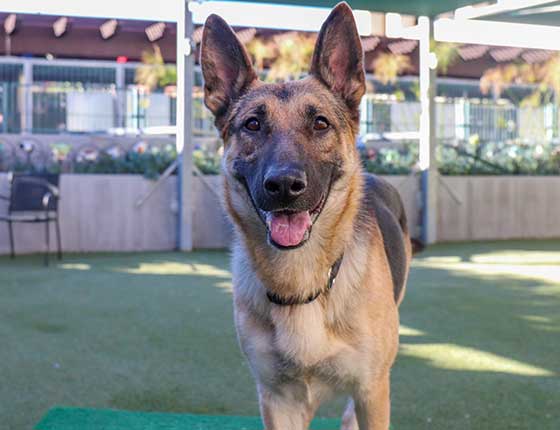 To what extent are pet license fees contributing to your overall budget? Licensing fees account for 4% of our overall budget.
Do you have any specific advice for pet owners that you'd like to share? A consistent routine can reduce/avoid most problematic behaviors. Teaching your dog to use their nose (scent work) can decrease your dog's heart rate and may help reduce stress.
Is there anything else you want to let us know so we can get the word out? There are so many ways you can help animals in our community.
Here are just a few:
Adopt your next pet
Become a Pasadena Humane volunteer
Foster a litter of orphaned kittens
Attend a Pasadena Humane event
Buy your pet supplies at our Shelter Shop
Make a donation
For more information about Pasadena Humane, visit
pasadenahumane.org